Health systems are finding that an enterprise-wide smartphone platform is much more than just a cool way to give everyone a new phone.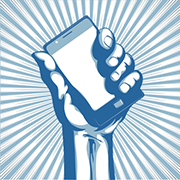 For Autumn Foy, director of clinical informatics at Onslow Memorial Hospital, putting some 325 iPhones into the hands of staff and clinicians at the North Carolina hospital is one step toward better care team coordination, which means improved patient safety and better clinical outcomes. When you're a small hospital on a tight budget taking a close look at a million-dollar project, those outcomes resonate.
RELATED ARTICLES
"Our focus at first was on patient safety," says Foy, who had to sell hospital executives on the merits of the platform. "From there we looked at (the benefits in) improving workflows, and making our staff more mobile. It's been a long, complex process and a little challenging at times, but when you take a look at the patient first, that's a good first step."
Foy got the OK last September to integrate the PatientSafe Solutions mobile platform, and went about equipping nurses and staff with the devices to improve real-time communications and scan patient medications. Later this year, staff will be able to use the devices to register and track infants, match specimen collections with patients, and scan blood products to make sure they're going to and coming from the right departments.
Along the way, Foy expects that clinicians will be able to reduce the number of devices they carry with them, from four to three or even less. And she hopes to someday cut in half the hospital's fleet of 42 mobile computers-on-wheels (COWS, which generally cost about $5,000 apiece, according to industry estimates).
"We're reducing our footprint," she says, "and making it easier for (clinicians and staff) to do the things they need to do" without running around looking for people, COWs or open computer stations.
And it all starts with a smartphone.
Onslow is part of a growing trend in healthcare, according to recent research by Spyglass Consulting. Some 63 percent of health systems surveyed by the California-based consultant are deploying or plan on implementing an mHealth communications platform of at least 500 smartphones within the next 12 to 18 months. And 44 percent of those organizations have a comprehensive strategy in place that looks at smartphones as more than just a communications tool.
"The strategies are evolving," says Gregg Malkary, managing director of the Spyglass Consulting Group. "Hospitals and health systems are finding that you can do a lot more on a platform with a common workflow engine that just communication. Care coordination means a lot more these days."
"While initial deployments are often limited to support clinical messaging between nurses and their support staff within targeted medical departments, many organizations quickly expand the scope and usage models to include all hospital workers and workflows across medical departments, standalone hospitals and ambulatory environments and clinics," Malkary said in a press release accompanying the study.
Foy agrees. "Everyone has a device," she says, ranging from doctors and nurses to maintenance and custodial staff, registration, even landscaping, gift shop and cafeteria workers. And they can all be connected to improve clinical workflows and, ultimately, the patient experience.
Foy says she encountered the expected hesitance from staff who don't like to try new things, but had "a handful of nurses who are really gung-ho about what this can do." There was very little push-back from patients as well, she says, save for the one ER visitor who became upset when he thought a nurse was using her personal phone to make a call, then was skeptical that a hospital would buy iPhones for all of its employees.
"It's been a learning experience for everyone," she says.
Just as important, an enterprise-wide smartphone platform doesn't preclude a bring-your-own-device (BYOD) strategy, says Foy. For doctors who move about frequently from building to building or campus to campus, or from their home or office to the hospital, Onslow will be leveraging an app that enables them to access the platform from their device.
'That's what keeps the doctors in the loop," says Malkary.
That's also one of the selling points in a deployment that can cost health systems millions of dollars, he adds.
"Today's solutions are complex," adds Malkary, who doesn't see much value in text-message-only platforms because they're too limited in scope. "And they have to be flexible, because it takes an incredible amount of leadership and investment" to get them up and running.
At Onslow, Foy has her own ideas as to where to go next with the platform.
"I think there's a lot more you can do with the device just to streamline processes," she says. "There's a lot of potential for communications even outside the hospital."